Welcome!
This site is the online community for registered students of Awakenings Institute. Select from the links on the main menu bar to access resources for your course or courses.
If you are not a registered student, CLICK HERE to find out about how you can become a part of this thriving learning community.
Overview of the Courses
"Are you ready to learn how to help others with EFT, come fully alive,
and be the change you want to see in the world?"
If so, Awakenings Institute's EFT Training Courses may be the answer to your dreams!
Under the direction of EFT pioneers and veteran trainers Drs. Phillip and Jane Mountrose, the EFT Training Courses from Awakenings Institute, a non-profit organization devoted to creating a more loving and supportive world, can help you, often in unimaginable ways…
About Awakenings' Courses and Programs
The quality of your training is critical to your success!
While the basics of EFT, coaching, and healing are easy to grasp, being a highly skilled practitioner requires a depth of understanding of the human psyche.
Awakenings adds more depth with a holistic approach that thoroughly covers the basics, and much, much more. With an understanding of how everything is connected, the Mountroses are known for their ability to pinpoint the source of an issue quickly, then correct it as easily as possible with EFT and their signature GTT (getting thru) Techniques. Their programs also include holistic Life Coaching so students have skills for coaching clients to take positive steps toward the lives they truly desire.
Awakenings' EFT Courses include a wealth of targeted information and tools. They help you to earn recognition through certification, and get you on the road to building a thriving holistic practice.
Over the years, these training courses have expanded and evolved. They have a proven track-record and withstand the test of time. The Mountroses' state-of-the-art holistic teachings incorporate highly effective processes, resources, and approaches you won't find anywhere else.
The Mountroses have a knack for incorporating effective, step-by-step systems into their training courses. They can help you and your clients to clear stuck emotions, create more joyful and fulfilling lives, accelerate your spiritual growth, and more.
Three Certification Course Options with EFT and More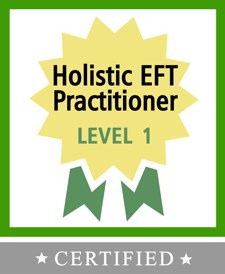 Would you like to learn a proven, systematic approach to EFT and energy healing from two of the leading experts in the field? Would you like to learn how the Mountroses' make EFT even more effective with their unique holistic techniques?
The important questions is: how can you get EFT to really work for you? And how can you be confident about helping others with these extraordinary techniques?
Beginners and experienced people have received tremendous results with this holistic training. The Mountroses are known for their signature approach to EFT and helping people to become effective and confident practitioners
Would you prefer to learn Coaching and Holistic Healing directly from the Mountroses in their hands-on, in-depth Telecourse Program that you can take from anywhere by phone? Calls are live, plus recorded for your review.
Students report this Holistic Life Coaching and Healing Program is truly life changing! Many of them divide their lives into the time before and after they started their studies with the Mountroses.
You will receive the most proven and innovative tools and knowledge. You will also learn valuable skills for building a thriving holistic/coaching practice or to use professionally.
Do you want to go deeper with an independent Home-Study Program so you can learn on your own schedule?
This Independent Study Certification Program includes four powerful courses that may also be taken separately for certification in the following areas: EFT (Emotional Freedom Techniques) Practitioner, SK (Spiritual Kinesiology) Practitioner, Spiritual Intuitive, and Soul Purpose Advisor.
Together, these courses provide a wealth of information and tools for becoming an effective spiritual counselor.
It's All About Connectedness…
The Mountroses are known for their personal approach. If you feel like you are here for a reason and Awakenings feels like the place for you, they would be delighted to discuss your possibilities with you…
Feel free to call 805-934-1238 between 9 am and 5 pm Pacific time, Monday through Saturday or click Contact Us for more information.
"We invite you to connect and make this your time to come alive!"